We stock only the highest quality hair and beauty products at Segais Hair & Beauty and we are always delighted to talk to our clients about the best products for their hair type, skin tone and type. The product ranges on sale from our salons in Didcot, Wantage and Marlborough include:
Joico Hair Care and Styling
Joico have produced a fabulous range of hair care and styling products to suit every hair type and need.
We love Joico K-PAK's repairing and strengthening treatments (pictured left), Joico Moisture Recovery for dehydrated hair and their brilliant Joico Style & Finish formulas.
They also have products for coloured hair, dry hair, frizzy hair and for adding volume and shine.
Paul Mitchell Hair Care & Styling
Paul Mitchell consistently delivers hair care and styling products that contain high-performance ingredients and continue to surprise and delight us. They are an innovative company that is also committed to remaining cruelty-free with no testing on animals.
The range include shampoos, conditioners and hair masks, products for men and children, plus something for every hair type whether your locks are dry, greasy, frizzy, coloured, curly, straight or mature.
Niophlex For Colour-Treated Hair
Hair colouring has come a long way in the past few years and one of the most exciting new breakthrough treatments is Niophlex. By combining ground-breaking Niophlex with traditional colouring and bleaching services we can both protect your hair from damage and improve its look and feel. We offer the Niophlex upgrade hair colouring service in all our salons. It can massively improve hair that is damaged and over-processed in just one treatment. We also offer an at home treatment which is available to buy from your local Segais Hair & Beauty Salon.
ghd Tongs, Wands, Straighteners & Hairdryers
We stock a wide range of ghd styling tools to cater for your hair needs. With ghd standing for 'good hair day' this is a company which really stands by this motto. Superb hairdryers and high quality straighteners, tongs and wands are designed for long, medium and short hair and are perfect for creating waves, curls or straight hair. For Christmas 2015 we're also delighted to bring you the latest ghd Arctic Gold Gift Sets.
New CID Cosmetics
You can now achieve a professional make-up finish with simple to use and easy to understand multi-functional solutions. The team at New CID Cosmetics have thought of everything to make our lives easier when it comes to applying make-up. We love their double ended eye liner and lip gloss with a light and mirror built into the lid. Ingenious!
Color WOW Root Cover-Up
Keep your hair looking 'wow' with a fabulous new product for hair that's been colour treated. Color Wow root cover up is an innovative mineral powder that camouflages grey roots instantly and even colours dark regrowth without the use of peroxide.
This breakthrough secret weapon is a must-have for every client with colour-treated hair.
DECLÉOR

Beauty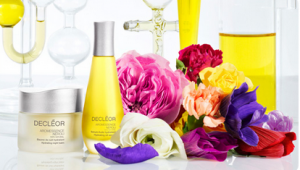 DECLÉOR has been a pioneer in aromatherapy and phytotherapy for over 40 years and has a global reputation for excellence, harnessing the potent benefits of natural ingredients such as Essential Oils to give beautiful, glowing skin. DECLÉOR skincare uses only 100% natural, pure and preservative-free Essential Oils which are ideal to stimulate, relax, soothe or revitalise your skin. We offer a wide range of Decléor products for face and body. If you are unsure which is right for your skin, please talk to one of our trained beauty therapists who will be happy to advise you.